On Friday the 12th of November 2021, I stood in front of a muslim congregation, stating the Shahadah. Finally! You can see here, a signed document that confirms it!
سورة يوسف ١٠٠
قَدْ جَعَلَهَا رَبِّي حَقًّا
Surah Yusuf 12:100
Allah hath made it come true!
I guess it may come as a surprise for some. It has been a long time coming, but what a good feeling to finally do it. The whole thing reminded me of the following aya…
سورة الأحزاب ٢٣
مِّنَ الْمُؤْمِنِينَ رِجَالٌ صَدَقُوا مَا عَاهَدُوا اللَّهَ عَلَيْهِ ۖ فَمِنْهُم مَّن قَضَىٰ نَحْبَهُ وَمِنْهُم مَّن يَنتَظِرُ ۖ وَمَا بَدَّلُوا تَبْدِيلًا
Surah Al-Ahzaab 33:23
Among the Believers are men who have been true to their covenant with Allah: of them some have completed their vow (to the extreme), and some (still) wait: but they have never changed (their determination) in the least:
Alhamdulillah endless times! I would like to thank all the muslims who were present at the time, for all their kindness and encouraging words. For those who weren't there and still would like to see it… take a peek at the video below, it has been recorded…

The video is also available with description and comments on Norrbottens Islamiska Center Facebook profile, you can find it > here
This happened in a neighbouring city from where I live. Today, a week later, as I'm writing the following words (Friday the 19th of November 2021), I have met local muslims in the gathering place in the city I live in myself, alhamdulillah… and perhaps not surprisingly, yet another aya comes to mind…

سورة البقرة ١٤٨
أَيْنَ مَا تَكُونُوا يَأْتِ بِكُمُ اللَّهُ جَمِيعًا ۚ إِنَّ اللَّهَ عَلَىٰ كُلِّ شَيْءٍ قَدِيرٌ
Surah Al-Baqara 2:148
Wheresoever ye are, Allah will bring you Together. For Allah Hath power over all things.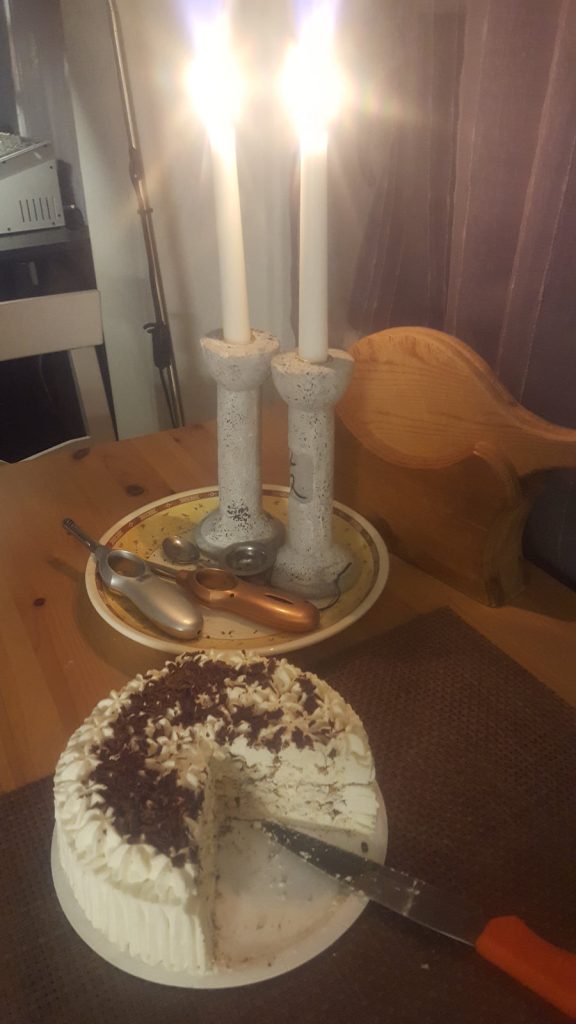 Naturally, I decided to celebrate the Shahadah event with a cake.
Every time I see that signed document in front of me, I'm thinking to myself… mashallah, it actually happened…
سورة يونس ١٠٠
وَمَا كَانَ لِنَفْسٍ أَن تُؤْمِنَ إِلَّا بِإِذْنِ اللَّهِ ۚ وَيَجْعَلُ الرِّجْسَ عَلَى الَّذِينَ لَا يَعْقِلُونَ

سورة البقرة ٢٥٦
قَد تَّبَيَّنَ الرُّشْدُ مِنَ الْغَيِّ ۚ فَمَن يَكْفُرْ بِالطَّاغُوتِ وَيُؤْمِن بِاللَّهِ فَقَدِ اسْتَمْسَكَ بِالْعُرْوَةِ الْوُثْقَىٰ لَا انفِصَامَ لَهَا ۗ وَاللَّهُ سَمِيعٌ عَلِيمٌ
Surah Yunus 10:100
No soul can believe, except by the will of Allah, and He will place doubt (or obscurity) on those who will not understand.
Surah Al-Baqara 2:256
Truth stands out clear from Error: whoever rejects evil and believes in Allah hath grasped the most trustworthy hand-hold, that never breaks. And Allah heareth and knoweth all things.
So with all this in mind, do I now have the legitimate right to call myself a muslim? I feel it important to point out, (and also to remind of an input I wrote earlier, "what is a muslim"), where I shared the following words… "Our journey through life carries on and while we may be refering to ourselves as "muslims", the reality is that we are all striving to be. The day we are fortunate enough to be pronounced as such by our Creator inshallah… in that time, we will truly know that we have earned that honor at last."

The best of times to you all inshallah.
Peace, happiness, and stay faithful.
7
3
3
2
2